Just some of the amazing options and features
HOW IT WORKS

1. Keywords
Search by category keyword or business name to narrow search results
2. Location
If setup in configuration this will show your default location or edit here
3. Radius
Narrow or expand the distance radius to search near your location
You can automatically remove your existing listings from the search
4. Existing
5. Sort
Default search is by relevance but also you can search by ratings or distance
6. Limit
Limit search results by number from 10 up to 60 listings per search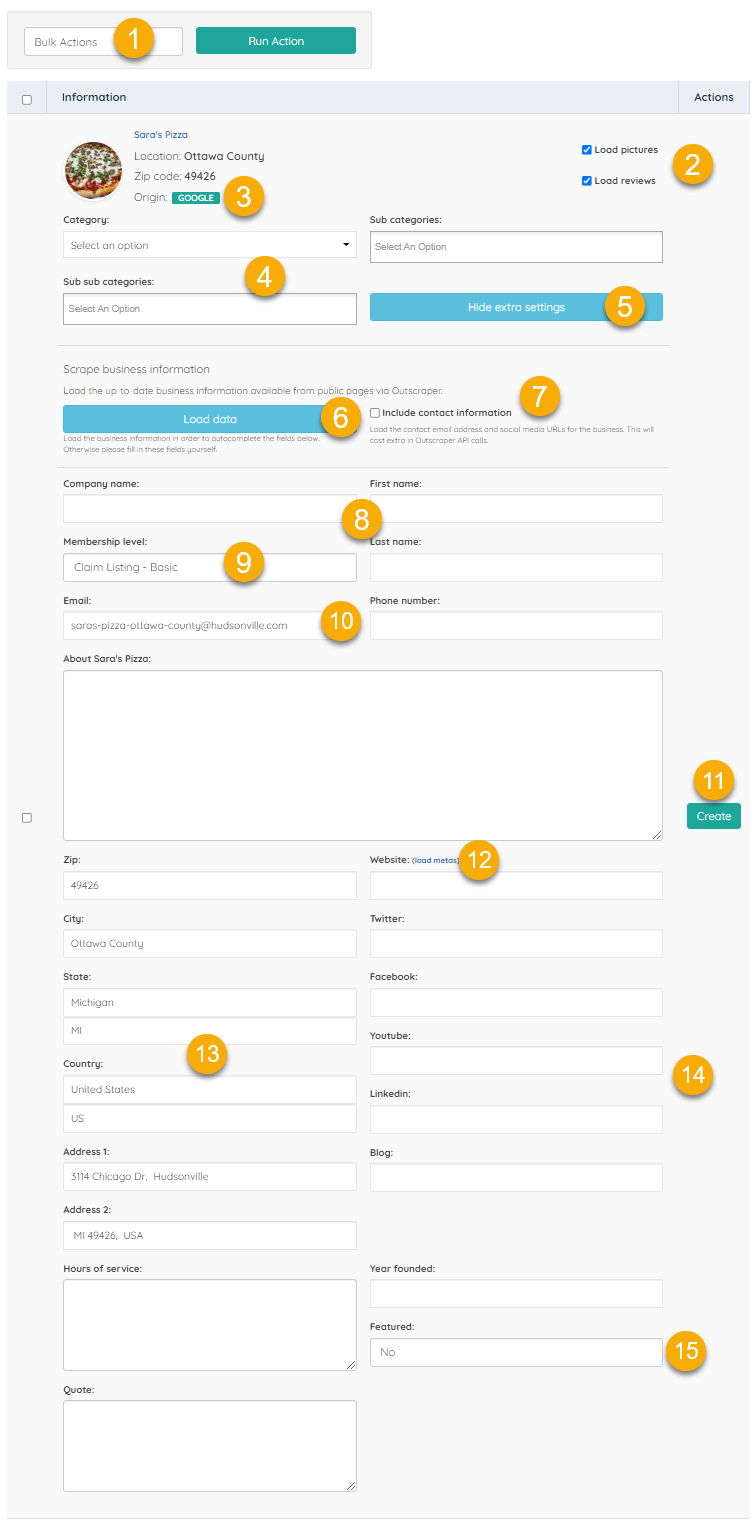 1. Bulk
Select and import multiple listings at the same time with our bulk upload option
2. Images &Reviews

If you have the DirectoryPhotos add-on you can also load images and reviews at time of import
3. Origin
Displays origin of pulled data from Google, Yelp or both. Recognizes and displays if listing already exists
Select the desired categories for your items before uploading to add the listing to the proper place
4. Categories
5. Extra
9. Level
Reveal or hide additional options to completely fill out profile before upload.
If setup in configuration this will show your default member level or edit here to change desired level
8. Data
Add other data such as Company and name
One click add the listing to your database. Images & reviews are also added if you have DirectoryPhotos
11. Create
13. Address
12. Meta
Override Google address as required to change the address shown for this business.
You can click the load meta to pull the page meta data to automatically create a short about us if available
14. Social
Add social profiles as desired for the listing before upload
You can also set this listing as featured to highlight a particular listing
15. Featured
EXPERIENCE IT TODAY! CLICK HERE
6. Load
Once the Outscraper API is loaded you can import listing information. Data can be manually added as well.
7. Contact
You get 500 free contacts or emails per month. Option to remove this if above limit to reduce API usage.
10. Email
Email autogenerated, but can be replaced if contact option selected for data import.